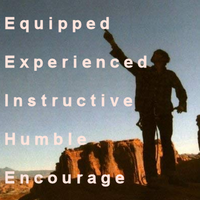 Sometimes when we work hard to be an encouragement as a leadership team, we tend to focus on the challenges and problems that young people talk to us about. Yet there are "Seasons" to life, even in college and as a young professional. Sometimes we really do feel the anxiety, and we battle relationship pitfalls and get tackled by depression. In those seasons, we're grateful for supporters who encourage us, pray for us, and help lift us up. But what if you're in a season of exciting productivity and much of life is going your way? What if this is the season that God has made a way for YOU to be the encourager?
 
This year's conference, which is just over 1 month away, is built on the encouragement of God, "You Will Not Be Afraid!". For all of you encouragers that can attend, I pray that you will be inspired to run out into your world with even greater boldness to share that inspiration with others.
 
But some of us don't feel we're qualified, and I just wanted to lay out a few thoughts as you step into the moments God prepares for you to be the encourager. I'm using one of my favorite pictures of a young man who is now with Jesus named Ian Mack, a mountain climber that, to this day, is still used by God to encourage me.


Equipped - If you climb mountains, you need to be equipped, and he is well equipped with all of the gear that he needs to be successful. If you and I hope to bring encouragement to others, it's important that we be in relationship with Jesus. God's word is what equips us. God's people breathe life into us and help equip us. A prayer life that is willing to bring thanksgiving, praise, and requests equips us.
 
Experienced - A climber starts on the easier slopes and gradually learns to use the gear, often mentored by more experienced people. To be an encourager, it's important to not just know the word of God, but to apply it. Not just know about prayer and how it works in theory, but to actually use it. To be part of God's people (the church); participating in communion brings experience that you'll need to be an encourager.
 
Instructive - One of my favorite realities of this photo was that Ian was pointing the way to the next level, because he could see it, while the others in his party did not quite know where they were going. Encouragers are equipped and experienced so that they can also be instructive. But we're instructive while we're ON THE PATH. Encouragement that is instructive is best done while doing life together.
 
Humble - An encourager admits we don't have all the answers. We don't know all the safe routes all the times We can make mistakes, we sin and wreck relationships, but we know where forgiveness comes from, we know God's grace pours into a repentant heart and makes us new!. We're not heroes; ultimately Jesus Christ is the only one that is. Humility is one of the foundational realities for anyone who wants to be an effective encourager. Jesus washed feet in order to show people a better way.
 
Encourage - Lastly, you have to just do it. All you need is to be in relationship with people who are older than you, younger than you, as old as you. God will give you opportunities to be the voice of Gospel hope and life to people of all generations. And as you encourage, you will likely find greater joy when others come alongside you in a season where you need it most.

Ian was a young man with his life ahead of him. Hope filled, gracious, an encourager and a young person who knew his Savior. God called him home early in an accident on an earthly mountain. But because of the equipping of the Holy Spirit and Christian encouragements of others he has a place on God's holy mountain.