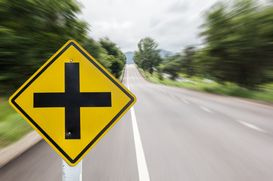 I don't know about you, but I have something of a love/hate relationship with Google maps. Enter the address of my destination and then roll the dice and take the gamble. It tells me there is traffic ahead and I could take this "other" way, but it never seems to work out. The traffic backup still seems a little late to be reported until I'm one of the statistics in the algorithm that tells everyone else to avoid the road I'm on. But it certainly can be a helpful tool too, especially if I know where I generally want to go.

Navigating life, especially into our early 20s is sort of like being an infant adult. Learning to walk usually happens with a lot of falls. Learning to run seems to take forever. As 18-25 year olds, we often don't know what we don't know, until we wind up in destinations that are unfamiliar and sometimes unsafe for us or for our spiritual lives. Sometimes, we really tried to follow the directions, but the path was a lot harder than we thought it might be, at least it certainly looked a lot different than what we expected. Sometimes we try to take a shortcut and we ignore the signs and make choices that cost us credibility, opportunity, relationship, or freedom. Sin has a way have doing exactly what Jesus told us... it brings death. Walk in it long enough and sin can bring death to your ability to know the directions.

That's why this little gem from Jeremiah is such an encouragement and it's partly where Awake and Alive has found its mission. Accurate signs, well placed, well-lit, and spelled out, help us to know where we need to go. I love the picture of a "guidepost" - a sign with important information, raised up into our line of sight, along the path we are going, so that we know how to navigate the bends in the road ahead and the intersections/options in our future.

One of the things we all want to know coming into college, or with our relationships or future careers is "Will this work out??" "How do I KNOW this is right?". Well, God's encouragement is to walk closely and humbly with Him. It's why YOUR time in the Bible and in prayer is so important. Our passage reminds us to "take note of the highway, the road that you take". God's word is that critical component to the journey of Hope for your future that you are on. It is the sign, it is the guidepost. It is what tells you you're on the right road and when to leave the one you're on.

This year's two day conference is meant to be one more road sign for you as you walk into your future. The hopes and dreams that you are praying for and working toward, they all find their direction in Christ. The reality of the cross means that a price was paid to forgive us and make us new, and it's a reminder that there are times in life when the journey won't look the way we think it should. But in the end, Jesus' cross and empty tomb remind us that, no matter what twists and turns come to our road, if we will follow the signs, it will lead us to a lasting hope. You know, the one that you were made for! To be fully human, untouched by fear, anxiety, or hopelessness. To find an eternal life fully known by the God who created and loved you and who, even now is preparing a place for you.