Hurricane Harvey - Living Through the Storm
---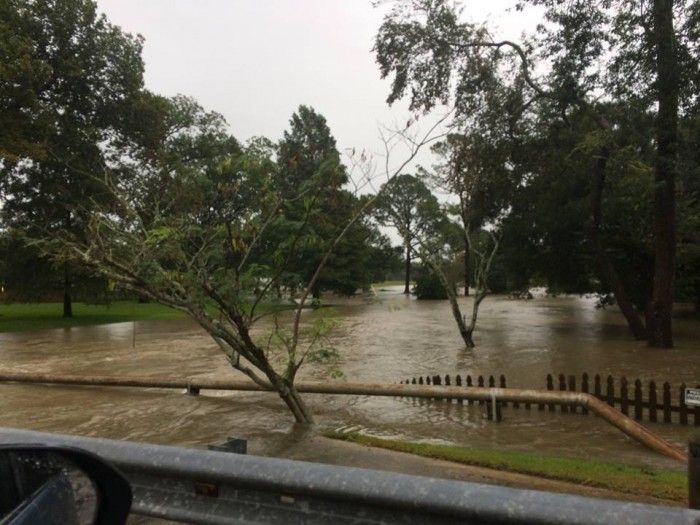 ---
I've lived most of my life near Houston, TX and have experience several tropical storms and hurricanes during that time. I have seen firsthand the devastation brought on by their winds and rains and have experienced the trauma of evacuating as well. Hurricane Harvey, like every storm I've been through, was unique in its own devastating way.  I thought I knew what to expect having live through Tropical Storm Allison in 2001. That storm also stalled over the region and inundated the area with flooding rains. Harvey was so much worse.

My area of town received about 36.1" from Harvey within just 5 days which is over 68% of what we normally see in an entire year. At one point Saturday night, we received 6.7" of rain within just 3.5 hrs causing the creek in my neighborhood to rise over 6ft during that time. A few houses in my neighborhood flooded, but overall my neighborhood was one of the driest in our city. My family thankfully came through Harvey relatively unscathed with very, very minor damage. We did have a scare Saturday night when the waters threatened to enter our shed, but they thankfully did not.

Hundreds of thousands of others did not fair nearly as well. This was worse than a 500 year flood. It was more like a 1000 year flood, and as such, no one really knew what to expect. Neighborhoods that had never flooded before found themselves under feet of water and now are pretty much on their own to rebuild as they didn't have flood insurance. Even the school I attended from 5th grade on was flooded for the first time ever with up to a foot of water in nearly all 5 buildings. Many schools along the entire Texas Gulf Coast do not know when they will be able to open their doors to their students and some will not be able to open at all this school year. Harvey broke nearly every flood record around the area, and the waters may not completely recede for up to a month in places.

Both of Houston's major airports also closed for several days. Portions of nearly every highway were flooded, and it took a few days even after the rains ended before the frontage roads (called feeders here) were dry and cleared of all the stalled out cars. This made it nearly impossible to get onto the highways, and many people were lucky if they could make it 1-2 miles from their homes. While I was one of those "lucky" people, even I felt trapped just knowing that if my family and I needed to get out, we could not.

This storm has dumped more rain on SE Texas than any other tropical system in US history. As a city and as a state, we have been brought to our knees, but we will rise again stronger than ever. Those who needed to be rescued and have lost everything turned around and rescued and assisted others. Strangers have become friends. Communities have been brought closer. Shelters were set up in a matter of hours with remarkable efficiency. People from across the nation have dropped everything to come and help even if it meant risking their own lives. We are all in this together. The bayous and creeks will recede, we will dry out, we will rebuild. We have been made stronger through these dark days. Despite the seriousness of what has occurred, we are finding things to smile at, to laugh at, to be grateful for, to look forward to. The devastation has been overwhelming to see but so has the remarkable response.

Some may say that God sent this storm to punish us, but that couldn't be further from the truth. Storms are a result of living in a fallen world. Others may question how a loving God could allow such devastation and heartache. Again, we live in a fallen world, but as I have seen unfold time and time again on TV and in person, this storm, this disaster, has made us stronger. Over this past year, our nation has been growing more and more divided. This storm has united us. We have ceased to think about "What can I do to get ahead?", "How can I get my own way?", or "How can I get others to believe my way is right?" Instead are asking "What can I do to help my neighbors, my friends, my city?". We are learning to have faith and trust that even through the fear of the unknown, we will be alright. We are not alone. And guess what, God knew this before the storm even formed in the Atlantic. He knew of the good that would come of this disaster even when it seemed to all of us that the flood waters would swallow us up.


The rebuilding process will take months, possibly years, so keep us Texans in your prayers and pray for all those that now find themselves in Hurricane Irma's path as well as those dealing with the wildfires out west.

-- Juliana (Awake & Alive Social Media Coordinator)
"We are hard pressed on every side, but not crushed; perplexed, but not in despair; persecuted, but not abandoned; struck down, but not destroyed." 2 Corinthians 4:8-9
God is our refuge and strength, an ever-present help in trouble.
Therefore we will not fear, though the earth give way and the mountains fall into the heart

of the sea, though its waters roar and foam and the mountains quake with their surging.
Psalm 46:1-3
"In this world you will have trouble. But take heart! I have overcome the world." John 16:33b